I have been riding motorcycles since I was 10 years old, and I have always been a biker at heart. I am a Harley enthusiast and I ride whenever the weather allows. I am not affiliated with any clubs or organizations, but I will gladly perform ceremonies for riders who are.
If you are planning a biker wedding ceremony, I will be happy to perform the ceremony for you. Anything from simply wearing a leather vest to a full biker processional is no problem. I will gladly ride to your location and perform your ceremony in full leathers.
Anything you want to do is no problem. Let me know when and where you are planning to have your wedding and I will tell you my price up front. I never charge extra for anything and my fees are very reasonable! Most weddings are $275.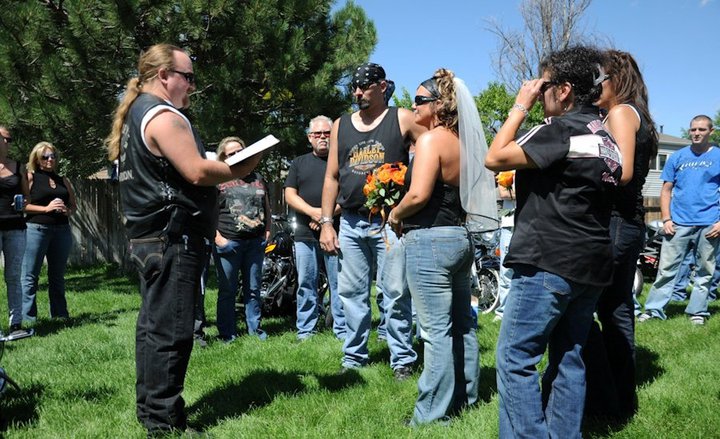 "Are you related to Sonny Barger?"
I am asked this question fairly frequently by bikers I meet. As it turns out, I recently learned that yes I am. He and I are either 5th or 6th cousins traced back to George and Abraham Barger in Kentucky in the late 1700s. I have never met Sonny. But we share a love of bikes and a common ancestor. I have read most of Sonny's books and have several in autographed copies. He is a true biker legend!